JOY 3D Magenetic pearlescent pigment
Suitable for application in nail polish, leather and paints etc..
Magnetic conductive Pearl Pigment is also called 3D flash/effect pigments,which is based on natural or synthetic mica , except coated by regular metal oxide , but also coated by some special metal oxide, to make 3D series a very special character than normal pearls, not only have fresh colors, flowing texture, strong metal sense, but also giving a strong visual effect, making your products with a vivid 3D effect and excellent layered look.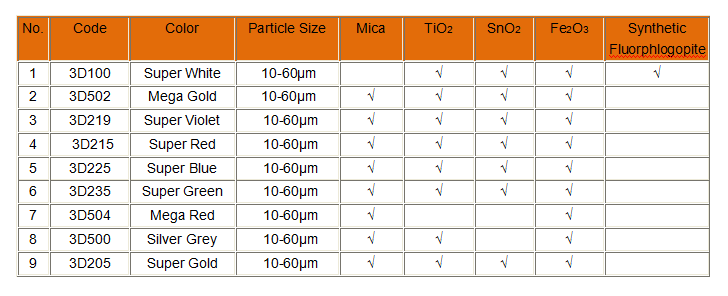 How to use 3D effect pigment?
1 Mix 3D Effect Pigment Powder with resin (3%-8%)
2 Spray or print the liquid powder on decorative surface
3 In the coating is not dry, with a certain shape of the magnetic mold modeling a few minutes until the resin semi-dry, the pigment does not move
4. Dry the coating
Application Shape: