JOY Diamond lustre pearlescent pigment
Suitable for application in cosmetics, plastics, coatings and inks......
JOY is a range of premium quality pearlescent pigments. The basic structure is a platelet of glass(C.A.B) which is coated with a metal oxide. JOY offers titanium dioxide, iron oxide and colour coated pearlescent pigments.
Resulting from reflected, refracted and transmitted light patterns developed at the multiple interfaces between the layers, JOY pearlescent pigments provide unsurpassed performance in brightness and colour play from white to earth tone effects.
| | | | | |
| --- | --- | --- | --- | --- |
| No. | Code | Color | Particle Size | TiO2 Type |
| 1 | JD8000 | Brilliant White | 10-60µm | Rutile |
| 2 | JD8053 | Sparkle White | 10-125µm | Rutile |
| 3 | JD8083 | Ultra Sparkle White | 50-300µm | Rutile |
| 4 | JD8261 | Sparkle Gold | 10-95µm | Rutile |
| 5 | JD8262 | Sparkle Red | 10-95µm | Rutile |
| 6 | JD8263 | Sparkle Violet | 10-95µm | Rutile |
| 7 | JD8264 | Sparkle Blue | 10-95µm | Rutile |
| 8 | JD8265 | Sparkle Green | 10-95µm | Rutile |
| 9 | JD8281 | Ultra Sparkle Gold | 40-200µm | Rutile |
| 10 | JD8282 | Ultra Sparkle Red | 40-200µm | Rutile |
| 11 | JD8283 | Ultra Sparkle Violet | 40-200µm | Rutile |
| 12 | JD8284 | Ultra Sparkle Blue | 40-200µm | Rutile |
| 13 | JD8285 | Ultra Sparkle Green | 40-200µm | Rutile |
| 14 | JD8395 | Ultra Sparkle Yellow Gold | 50-300µm | Rutile |
For Cosmetics and body care application: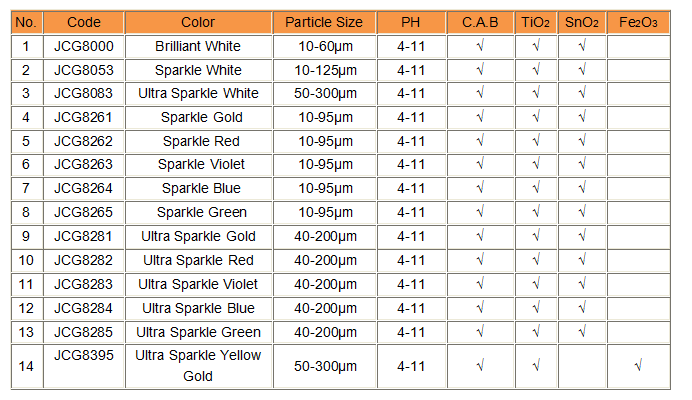 Besides the Diamond lustre pearlescent pigment, JOY pearlescent pigments also contains the following types:
Interference pearlescent pigment

Metallic natural pearlescent pigment
Silver white pearlescent pigment
Crystal lustre pearlescent pigment
Chameleon(color travel) pearlescent pigment
High Chroma pearlescent pigment‍
3D effect magnetic conductive pearlescent pigment
Weather resistant pearlescent pigment
Ø Click here to download color cards‍
Ø Click here to download cosmetic color cards